BR|PR was retained by renowned Harvard scholar, author, literary critic, historian, PBS television host and filmmaker Dr. Henry Louis Gates, Jr. to reposition his fledging black educational website Africana.com, grow market share and awareness.

NOTE: We were also retained by PBS to handle the press for Dr. Gates' television series "Wonders of the African World" (we launched over a dozen TV series for the network).
Our mandate was to essentially re-launch Africana.com by securing broad consumer, business
and trade media coverage, and to book speaking opportunities for Dr. Gates at prominent trade
shows and educational seminars.
To accomplish this, we implemented a multi-pronged campaign to highlight the website's authoritative content and its distinguished founders. We also developed and executed campaigns to support new content initiatives launched by the site.
Additionally, we collaborated with Africana.com's marketing department to develop ongoing
outreaches to relevant organizations, national conferences and HBCUs (Historically Black
Colleges and Universities).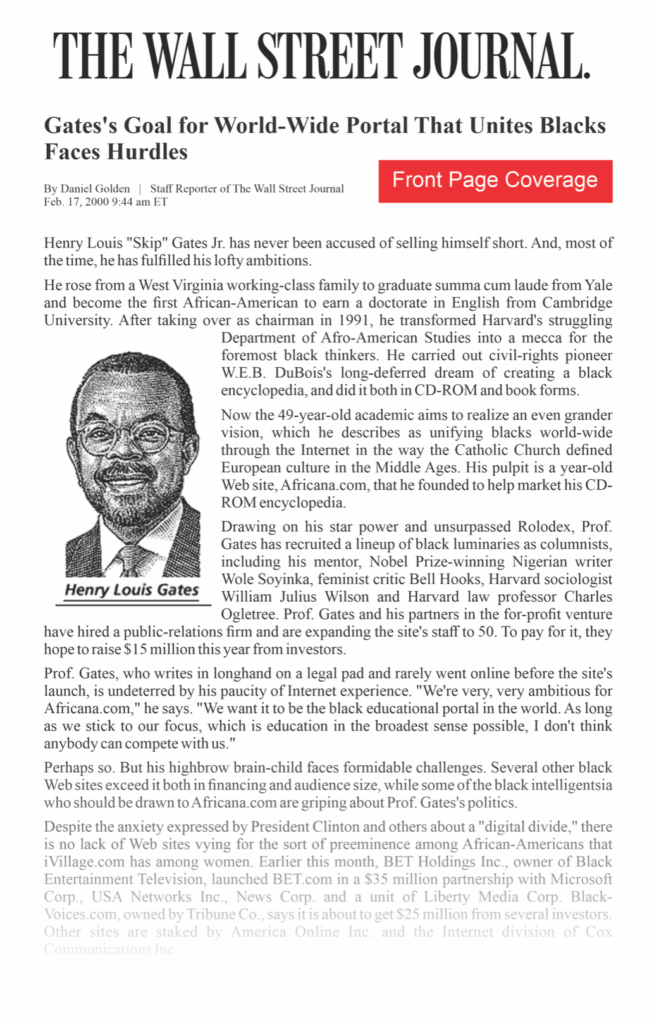 Our campaign kicked off with a prestigious Wall Street Journal front-page feature on Dr.
Gates and Africana.com. The story immediately propelled the site into the national limelight,
producing a dramatic increase in digital traffic and burnishing the brand. We then secured an Associated Press story that ran worldwide, and continued to elevate the brand with key placements, including CNN, The "Today Show", The New York Times, Newsweek, Jet, and Ebony.
Africana.com became the most influential black portal worldwide. Our campaign was
instrumental in establishing the site as a leading black educational portal, entertainment
resource and academic chronicle of the history and ancestry of African Americans.
Within a few years, Dr. Gates and his colleagues sold Africana.com to AOL Time Warner.