With 194 restaurants worldwide, the Asian Fusion UK-based restaurant group wagamama is a cult favorite among chefs and foodies. Relatively unknown in American, BR|PR was brought on to build the brand from the ground up in the US.
BR|PR was retained to open several NYC locations and launch new menu items and initiatives in the New York and Boston restaurants, including a national Covid-related initiative called "Wok from Home" during lockdown to help maintain visibility, engagement and buzz.
Our campaigns were designed to create a big splash in the media, introduce the brand to top food and lifestyle influencers and ultimately drive online engagement and foot traffic to the restaurants.
Prior to our engagement, there was one restaurant operating in New York. As the set menu was familiar to NYC customers (and press) we recommended that wagamama introduce a new dish exclusive to the US as a unique selling point for the opening of their second restaurant in Murray Hill, and to create an accompanying video we could service to the press. This provided us with a distinctive 'news' hook which we were able to leverage to the NY and national media, securing widespread coverage. For example, the influential culinary outlet The Daily Meal (6.9M UMV) came to the Murray Hill restaurant and filmed the chef making the exclusive dish, posting a digital story on the new restaurant and menu item.
Hosted high profile influencers at several cocktail party/dinners for both restaurant openings in NY and new menu items in Boston.
Worked closely with wagamama's UK-based Global Executive Chef Steve Mangelshot, booking him television, print and digital interviews whenever he came to the city.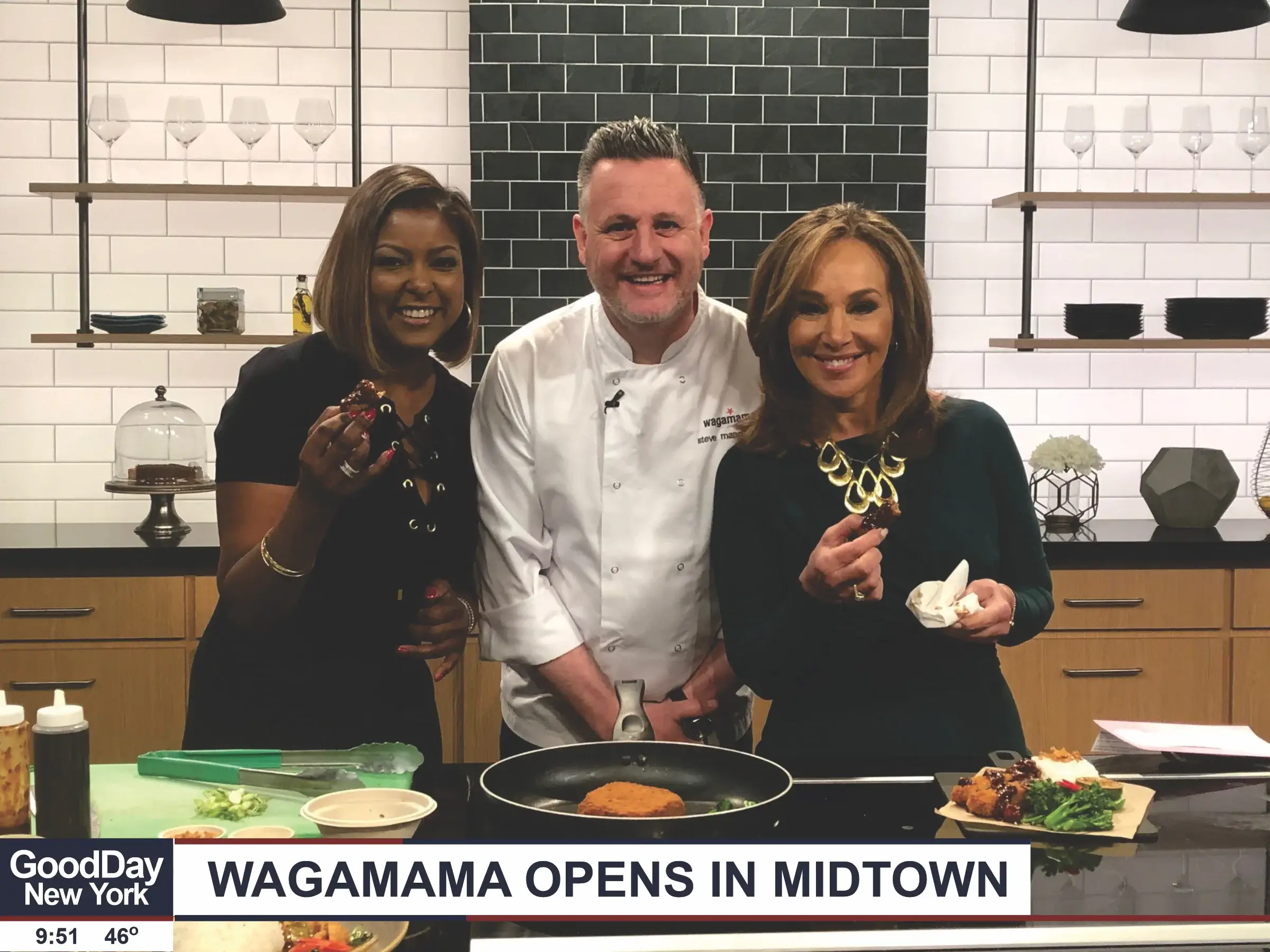 We generated over 75 million impressions for two restaurant openings in NY. The total number of followers reached by influencer posts was over one million.
Secured TV coverage, extensive print and digital features and reviews, including "Good Morning America," "Good Day New York", ABC News digital, The New York Post, El Diario, Readers Digest, The Daily Meal, Gayot, Yahoo Food, Eater, and New York Magazine's Grub Street.
In tandem with opening the mid-town location, the UK-based wagamama exective team brought on two U.S. based operating partners and asked that BR|PR make the announcement. We secured interviews for the new partners in leading trade publications including Restaurant News, Restaurant Business, Fast Casual, FSR Magazine, Real Estate Forum, Shopping Centers Business and National Real Estate Investor.
Launched new vegan menu items in wagamama's three Boston restaurants and held two influencer events, reaching 675,000 followers.